You are here:
Products » Coated Abrasives » Transformation
Depending on the needs of the customer
Añabar S.L.
transforming sanding and scotch brite rolls and belts, and abrasive wheels adjusting to the measures of the customer. Añabar uses a big variety of products with different bases. Paper, cotton, polyester, fibre, cloth-paper combination, and with different minerals, aluminium oxide, zirconium, silicon carbide, and ceramic coated abrasives.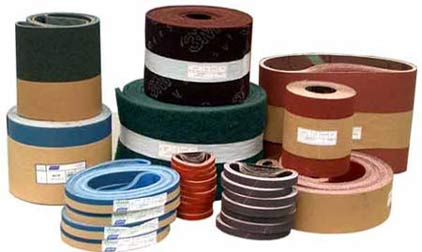 Clothe Base

Ceramic SG mineral
Zirconium mineral
Aluminium oxide mineral
Silicon carbide mineral

Combination Base

Silicon carbide mineral S422: paper seed (F paper)

Paper Base

Aluminium oxide mineral H231 paper seed (F paper)

Abrasives Coated Rolls
---
Clothe Base

Ceramic cubitron mineral
Zirconium mineral
Aluminium oxide mineral
Silicon carbide mineral

Paper Base "wetordry"

241UZ (F paper)
455 Silicon carbide (F paper)
Scotch-Brite
---
SCB-LS- with base
SCB-LS -SE
C&F

A Fine
A Very fine
T 680
T 96